Page Castrodale Selected as New Cabarrus EDC Executive Director
The Cabarrus Economic Development Corporation (Cabarrus EDC) Board of Directors is pleased to announce the conclusion of its national search for a new Executive Director. After serving as the Interim Executive Director for nearly four months, Page Castrodale was selected as the best fit for the Executive Director role at the Cabarrus EDC.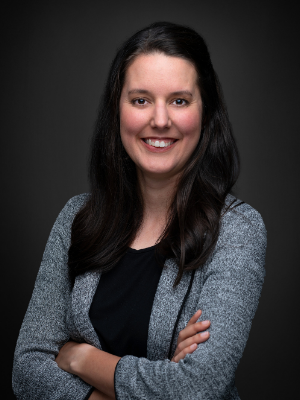 Castrodale has spent over 10 years in marketing, business, and economic development roles. For the last two years she has worked as the Cabarrus EDC's Existing Industry Director, where she supports new business recruitment activity, oversees entrepreneurial development efforts, and works closely with local companies to connect them to the resources they need in order to continue to be successful in Cabarrus County.
"I am honored and so excited to be stepping into this role," says Castrodale. "I believe that economic development is critical to the overall health and resiliency of our community and I'm grateful to be able to continue this important work with Cabarrus EDC. Our organization has made a lot of great progress over the years and there is a lot more to do. I look forward to what's next."
"Page is passionately committed to our community," says Tammy Whaley, Chair of the Cabarrus EDC Board of Directors. "In her role as Existing Industry Director, she built relationships with new and existing businesses and established valuable resources to help the businesses of Cabarrus County grow and succeed. With Page's leadership and solid understanding of the organization's strategy and work plan, the Cabarrus EDC is positioned for success."
Since former Executive Director Robby Carney's departure in August 2020, Castrodale has filled the role of Interim Executive Director, working alongside the Cabarrus EDC team to manage an active pipeline of new projects, while also preparing for the launch of the new Cabarrus Center for Innovation and Entrepreneurship. Castrodale maintained many of her responsibilities as the Existing Industry Director and continued overseeing the Grow Cabarrus program, which she helped launch in December 2019.
"These are unprecedented times; the way we do business has changed and will likely continue to see change and reformation," says Whaley. "Under Page's leadership, the Cabarrus EDC team will continue to focus on the organization's strategy and will diligently seek creative ways to adapt in order for Cabarrus County to continue the economic success experienced in recent years."
Castrodale is a North Carolina native and a graduate of UNC Chapel Hill. She spent seven years living up and down the east coast while her husband, Andrew, served in the Navy. They now call Concord home and live just outside of downtown with their four children.
About the Cabarrus EDC
Cabarrus Economic Development serves as the lead economic development agency for Cabarrus County, North Carolina. They recruit and assist businesses with their relocation and expansion plans and have an established program to support existing local business.