STREAM 2022 Expo Set for May
Supply chain disruption has plagued manufacturers nationwide throughout the pandemic. Now more than ever, organizations need to shore up their supply chains to alleviate disruption and reduce the high costs and risks that come along with it. Knowing what resources are available locally, in your backyard, has never been more important.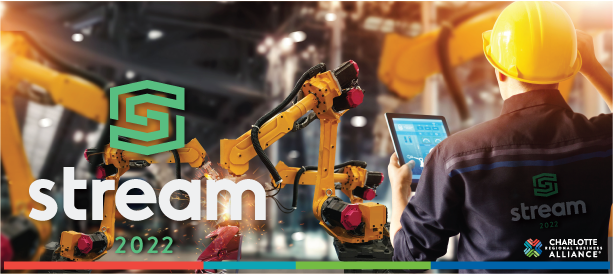 Charlotte Regional Business Alliance's STREAM 2022 event is designed to connect manufacturers within the greater Charlotte Region in an exposition, allowing businesses to strengthen local supply chain channels, both upstream and downstream, and to enhance the efficiency of industry operations by accessing critical components and raw materials.
This year's event is set for May 4, 2022 from 8:30am to 5:00pm at the Bojangles Coliseum in Charlotte.
STREAM enables participants to:
Discover and make introductions to buyers/suppliers in their backyard.
Network with other STREAM 2022 exhibitors, sponsors and attendees. Breakfast, lunch and reception are included for exhibitors.
Have exclusive access to presentations by industry leaders on current issues and policies affecting manufacturers.